As a lifelong Notre Dame football fan (#4 in the nation right now!), I have more than a passing familiarity with the tailgate "table." Whether you're cheering your team onward to victory in your living room or at a folding table in the parking lot, check out these delicious dips. Gotta keep your strength up for all that cheering, right?
---
Creamy Horseradish and Dill Dip (via Real Simple)
Seven Layer Dip II (via allrecipes.com)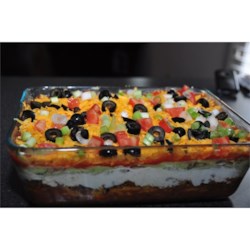 Buffalo Chicken Dip (via Food.com)
I just had this for the first time, and it's unreal.
Simple Babaganoush (via Minimalist Baker)
Classic Onion Dip (via Knorr.com)
Hot Spinach Dip (via Martha Stewart)
Alton Brown's Edamame Dip (via Food Network)
And if you're looking for a little humor with your hunk, check out New England Patriot Rob Gronkowski's IT'S GOOD TO BE GRONK